Nudibranchs, Scuba Rangers & Mavericks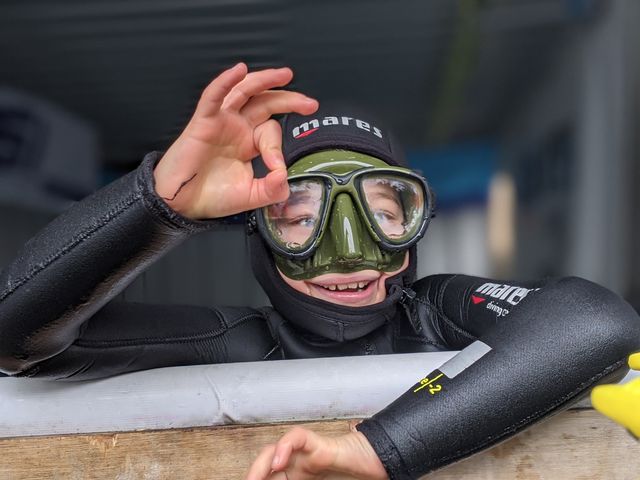 Does your son or daughter want to join a club with a difference? To spend their childhood on the beach, fully immersed in nature with friends? We've got something especially for you!
We believe that some of the best that Britain has to offer can be found under the sea – and where better to explore that world than in Britain's Ocean City itself?
These three weekend clubs run year-round and cover many different topics. For a full rundown of all the benefits and topics surrounding diving, take a look at our Education page.
We do our best to keep costs down to keep this wonderful sport accessible to all. As well as charging from as little as £35 per day, we also run a very popular trade-in scheme for our growing divers, which means that after the initial purchase, you never have to pay full price for a well-fitting wetsuit again!
Read on to see more about what's on offer for different age ranges…
(Pssst… Looking for School Holiday Club activity weeks? That's over here instead.)
---
Nudibranchs (ages 6+7)
For those budding young divers who don't fall into the Scuba Rangers age range just yet, but are still desperate to be involved!
We'll help get them underway, with the emphasis on fun, building social skills and confidence, and learning about the watery world around us.
Though we can't scuba just yet, we can absolutely start working on breathing techniques, calming the body, and mindfulness, along with snorkelling and getting used to being in the water.
If this is something your youngest ones might enjoy or would love to try, please get in touch.
---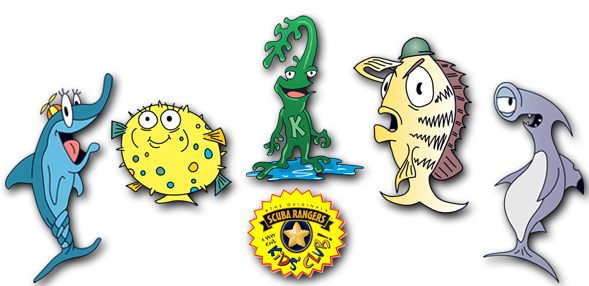 Scuba Rangers (ages 8-10)
Scuba Rangers is a long-term programme designed for children who want to dive into the world of scuba.
Captain Kelp and a crew of fun diving characters (along with our expert instructors) will teach your children the necessary skills and safety aspects of scuba diving, encouraging the children to work towards and achieve different badges as they progress.
Scuba Rangers is so much more than just diving though. Children not only learn about the underwater world, but also about conservation, teamwork, and so much more. Once a month they'll take part in a land-based activity tailored to teaching children how to protect and conserve our oceans.
Safety
Safety is our main priority; Scuba Rangers can only be taught by specially trained instructors in a confined pool with a maximum depth of 4m. In depths more than 1.5m there is a one-to-two expert-to-student ratio.
Scuba Rangers Philosophy
To keep it simple and fun, we have designed the Scuba Ranger Star, which defines the five points of a successful Ranger:
Proper Knowledge: Rangers must learn the rules of responsible diving.
Proper Skills: Rangers must learn and practice basic scuba skills.
Proper Equipment: Rangers must learn to use basic scuba equipment, and should own snorkelling equipment, and properly maintain and care for all their equipment.
Proper Experience: Rangers should maintain diving proficiency, dive within their limits, and continue to learn more about scuba and water exploration.
Responsibility: Scuba Rangers begin out of the water, focusing on becoming comfortable with the idea of diving, and learning about breathing, helping peers, and becoming familiar with equipment. Each ranger is not only responsible for themselves but also their buddy.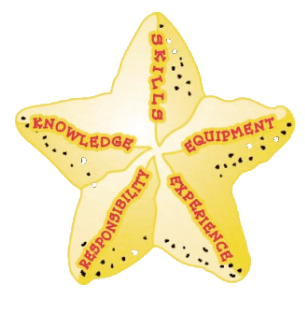 Scuba Rangers Badges
Training is broken into 5 different levels:
Step 1: Red Ranger – Kids demonstrate their swimming skills and learn how to snorkel with a mask, a snorkel and fins. How to help other children is also emphasized. And most importantly, so is having fun!
Step 2: White Ranger – Would be divers are introduced to diving equipment. What are these things for and how do we use them? Rangers then go into the pool with equipment for the first time.
Step 3: Blue Ranger – Rangers learn new diving exercises in the pool such as how to float in the water.
Step 4: Silver Ranger – Children play games underwater while wearing diving equipment to increase their comfort and practice the diving techniques they've learned so far.
Step 5: Demo Ranger – Your proud children are able to "teach" diving to parents, siblings, and friends by doing demonstrations of the skills they've learned.
After completing the Demo Ranger, students go on to become Scuba Ranger Club Members where they will receive a certificate and membership card, as well as become part of a network of Scuba Rangers, who can then share their underwater experiences together.
Scuba Rangers may then also go on to complete any of the Scuba Rangers Specialties:
– Buddy Ranger
– Civics Ranger
– Computer Ranger
– Deep Ranger
– Equipment Ranger
– Marine-life Ranger
– Mile Ranger
– Maze Ranger
– Navigation Ranger
– Night Ranger
– Rescue Ranger
– Search Ranger
| Scuba Rangers | What's Included | Price |
| --- | --- | --- |
| Scuba Rangers Intro Course | First Steps Towards Junior Open Diver, Six Sessions | £450 |
| Single Session | After Completion Of Scuba Rangers Intro Course | From £35 |
| Yearly Membership | First 12 Months Membership Free! | £200 / FREE |
| | Please note prices are non-refundable if cancelled within 24hours of event. | |
Excited and want to learn more? Awesome! Get in touch here and we'd be happy to help.
---
Mavericks (ages 11-15)
For those who're a little older, and want to go a little further in their diving, we have the Mavericks Club.
Whilst the principles of Scuba Rangers still apply, we can venture into the open water and see so much more of what's on offer whilst testing out our skills in the sea!
We work towards our Junior Open Water Diver certification, meaning we can happily dive around the world and feel confident doing so… A whole new world is opening up from here on in!
For any information or to join up with us, please don't hesitate to contact us.
---