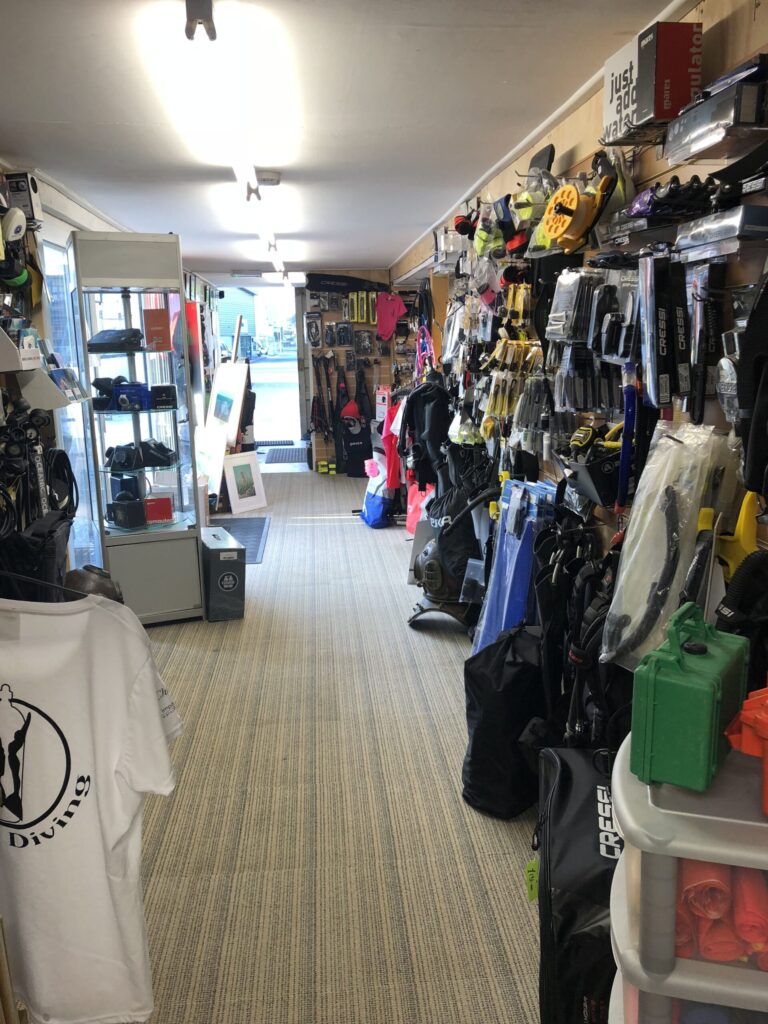 Sound Diving caters to your entire SCUBA, freediving, snorkeling, and spearfishing needs with a huge selection of brands, sizing, and equipment to choose from, along with free and unbiased advice from the team.
We are also lucky enough to have an on-site pool, meaning you can try the kit before purchasing, which no other local stores can offer.
Want to treat someone special? We sell Gift Certificates which can be spent across our services – from products in the shop, to servicing equipment, to any of the many courses on offer. Pop down or call us today to get your hands on one.
---
Brand New
Whether you're just starting out or looking to upgrade your kit, we're here to help you out. With so much on offer, it's definitely worth a visit to browse the huge range on offer.
Wondering if we've got a specific product? Get in touch to find out!
---
Approved Used
We're an inclusive club, and think there should be no barriers to equal access to the water. One way we can help out with this is by offering a trade-in scheme and by selling pre-loved kit. This is especially useful for rapidly growing children!
Our vast stock of second-hand equipment gets a full check before it goes on to the shop floor, so you never have to worry about quality or safety.
We have many second-hand masks, fins, BCDs, regulators, drysuits, wetsuits, cylinders, and more for you to browse and try on at your leisure so pop in and take a look!
---
Kit Rental
Need to borrow some kit? No problem. See the table below for prices per dive.
| Equipment | Price (inc VAT) |
| --- | --- |
| Full Snorkel Kit inc. wetsuit, snorkel, fins, mask | £25 |
| Mask & Snorkel | £5 |
| Fins | £5 |
| Shortie Wetsuit | £10 |
| Full Wetsuit | £15 |
| BCD | £8 |
| Regulator | £8 |
| Dive Torch | £5 |
| Dive Compass | £5 |
| Dive Computer | £5 |
| Full Scuba Kit | £30 |
| Prices per person, per day. | Open Water Courses include all necessary equipment. |
---
Gas Prices
Please note that it is a legal requirement to get cylinders serviced, which we can do for you here.
We are only able to fill in-date cylinders.
| Gas | Price (Inc VAT) |
| --- | --- |
| Compressed Air 232-Bar | |
| 3L | £10 |
| 7L | £10 |
| 12L | £10 |
| 15L | £15 |
| Enriched Air Nitrox - 32% Mix | |
| 3L | £15 |
| 7L | £15 |
| 12L | £15 |
| 15L | £18 |
| Enriched Air Nitrox - 36% Mix | |
| 3L | £10 |
| 7L | £10 |
| 12L | £18 |
| 15L | £18 |
| Enriched Air Nitrox - 50% Mix | |
| 3L | £10 |
| 7L | £10 |
| 12L | £20 |
| 15L | £20 |
| Enriched Air Nitrox - 100% Mix | |
| 3L | £18 |
| 7L | £30 |
---