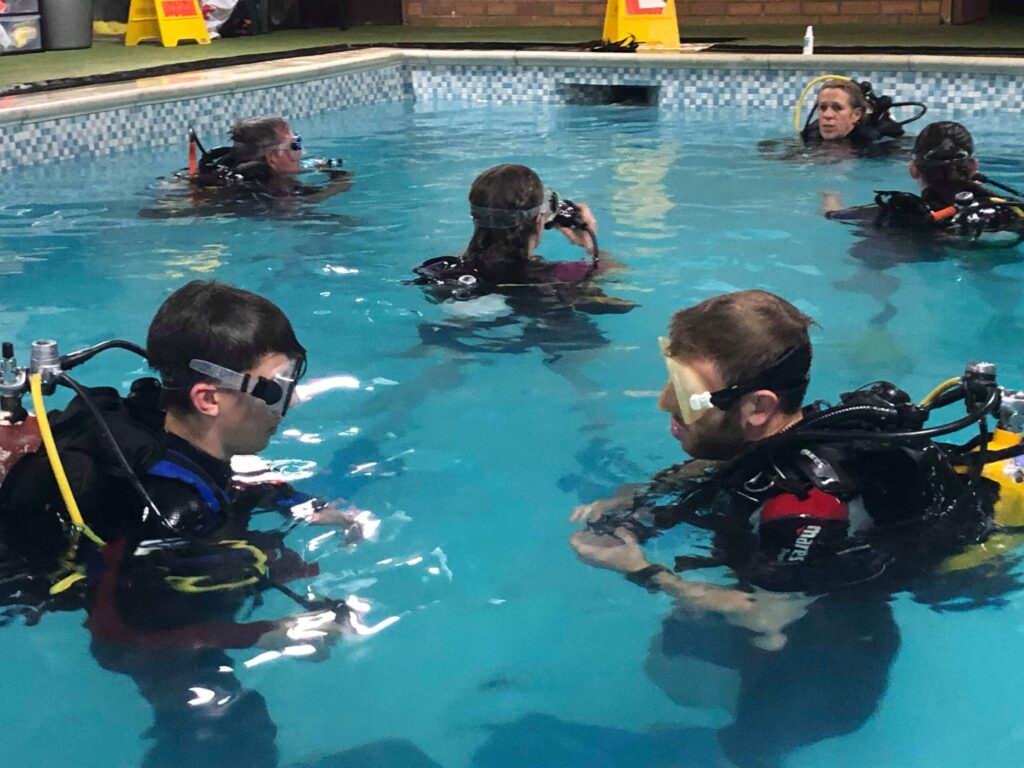 Wait, what's diving got to do with education?
Quite a lot, actually.
We are not just a diving centre, we're a community. A place to gather, share, connect, and grow. A safe haven for those looking develop their skills, their confidence, and their self esteem.
Things we learn:
– Team work
– Communication
– Problem solving
– Breath work
– Responsibility
– Respecting and trusting each other
– Organisation and planning
– Marine biology
– Conservation
– Physics of diving
– Maths of gas supply
– Chemistry of the gas
– History & geography of the local area
– English in reading and talking about our passions
– Media & technology, taught by experts in their field of underwater photography & videography.
We value inclusivity, which is why we work closely with those with special needs, learning difficulties, and mental health issues. The tranquillity underwater, with focused steady breathing and a calm mind, actively promotes physical and mental wellbeing (see below).
These are skills that stay with the diver long after they leave the water.
On top of all of that, diving has been shown to:
– Increase emotional wellbeing
– Improve blood circulation
– Help to relieve stress
– Improve concentration
– Reduce blood pressure
– Increase strength & flexibility of muscles
– Develop a connection to nature
– Build long lasting friendships
– Evoke a feeling of freedom
– Increase confidence and self esteem
– Be highly addictive…!
---
Homeschooling & ECHP
Education *can* be fun, child-led, and immersive – Just ask one of our many wonderful divers who work us into their timetable!
With all the topics listed above, there's never time to get bored here. We love seeing children grow with us over the years whilst they experience the best of what Devon has to offer, as well as working through their Scuba Rangers certifications and helping out with conservation efforts. Seeing their confidence blossom and their sheer joy for life is why we keep doing what we do.
To keep costs down, we run a very popular trade-in scheme for our growing divers, which means that after the initial purchase you never have to pay full price for a well-fitting wetsuit again!
If you'd like to discuss your needs and wants with us, to learn more, and to ask any questions, we'd be delighted to help. Simply use the Contact page to get the ball rolling.
---
Enrichment Weeks
Looking for an enrichment activity in Devon for your school students? Here at Sound Diving Plymouth we've got you covered.
We can help make learning more connected to the world around us, develop many of those 'soft skills' mentioned above, and reinvigorate students by showing them some of the best parts of Britain's Ocean City.
A rounded education happens both in and out of the classroom. Want to know more about what makes Sound Diving unique? Check out our About page.
Ready to get in touch and discuss what we can do for you? Contact us today and we can send out some detailed information and answer any questions.
---
Kids Clubs & School Holiday Activity Weeks
If you're looking for the Kids Clubs which run on weekends, you can find all that information here.
Searching for Holiday Club info? That's here.
---