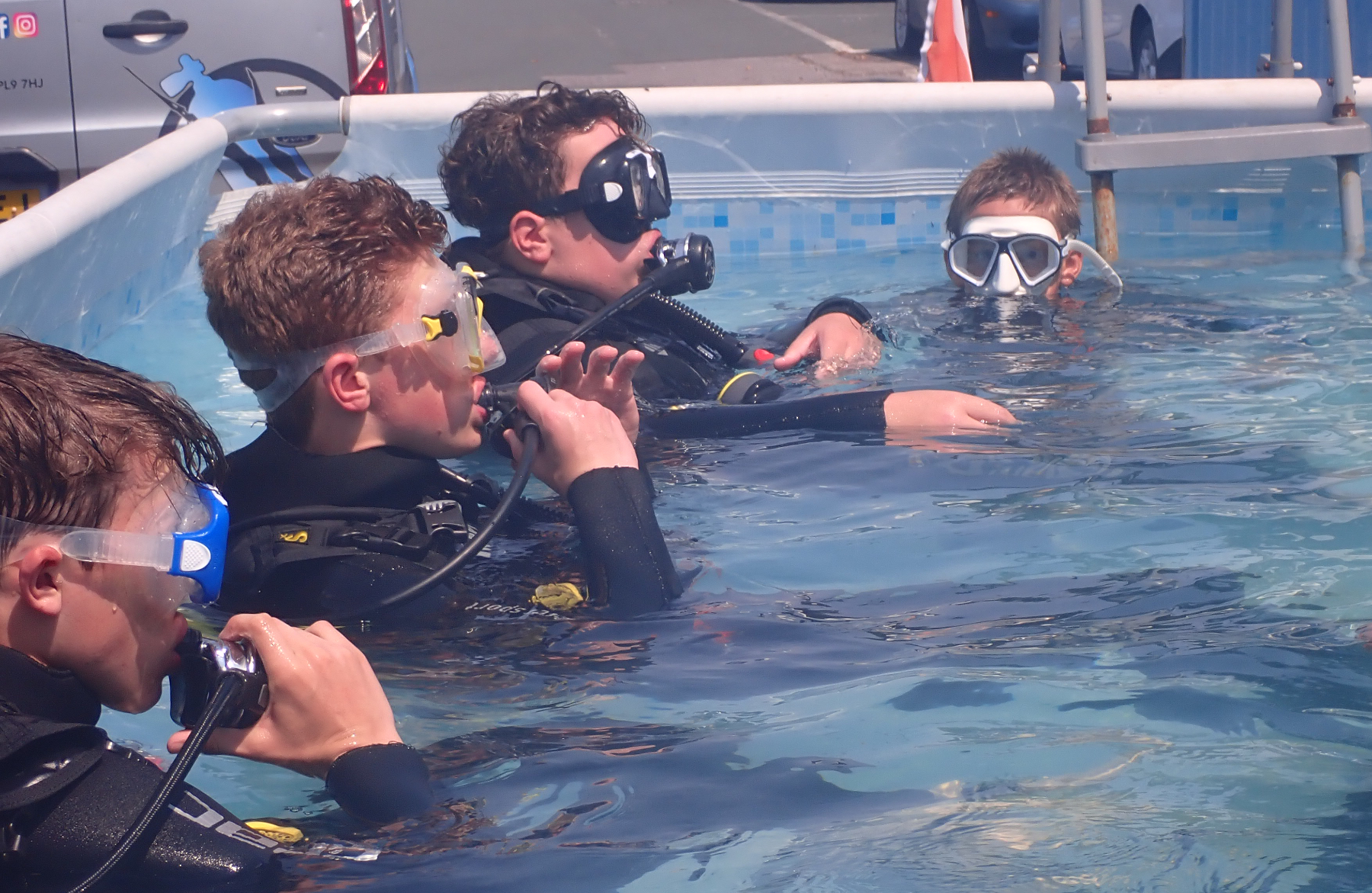 Curriculum-linked outdoor coastal learning
You've loved Forest School, now join us in our ever-changing outdoor classroom to explore and learn about Britain's Ocean City, both above and below the ocean surface.
Developed for Key Stages 2 – 4, we'll uncover the local history hidden along the strand line, delve into marine ecology as we explore rock pools and learn new life skills as we dip our toes into the ocean.
Our half-day modules are carefully balanced to provide an educational core with well-being benefits. Split into land and water-based modules, schools can 'pick and mix' options to best meet their requirements.

Here's an idea of what we've got planned: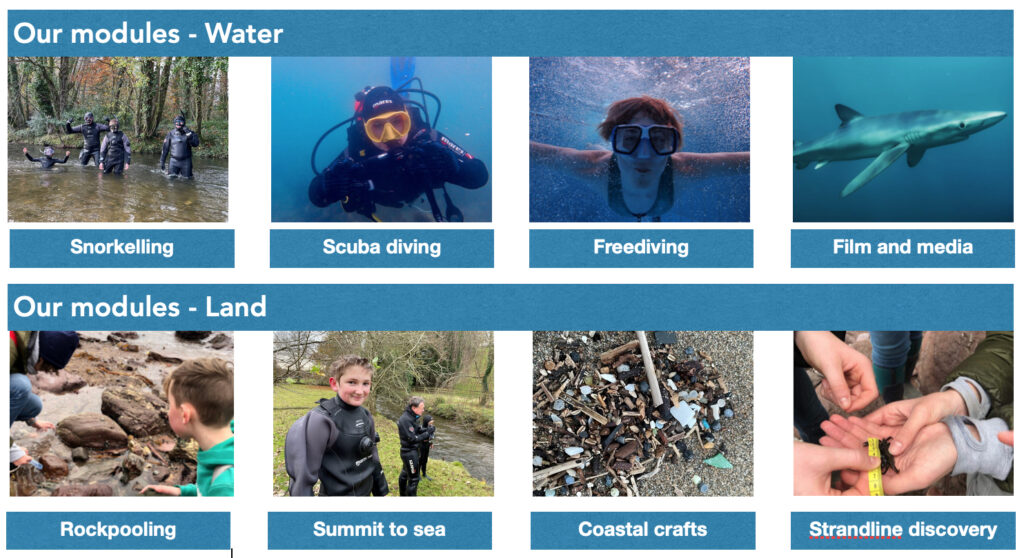 ---
Module details
Snorkelling
Prerequisites: Ability to swim 100+ metres
Educational themes: Marine Ecology, Physical Education, Geography & Conservation
The perfect introduction to the underwater world, snorkelling is the ideal way to get a first glimpse of what lies beneath the surface. This activity is accessible to all!
We take a look at the colourful reefs and kelp forests surrounding our coast, and if we are really lucky we might even spot a pod of dolphins and swim alongside the charismatic and inquisitive seals! People learn techniques to slow their breathing, to lower their heart rate and to calm their mind.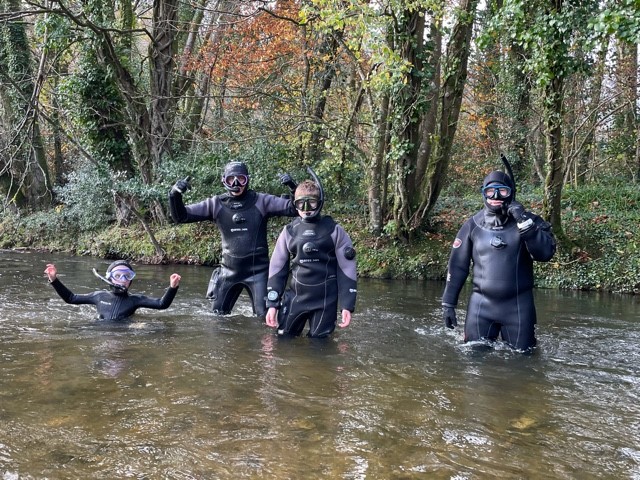 ---
Scuba diving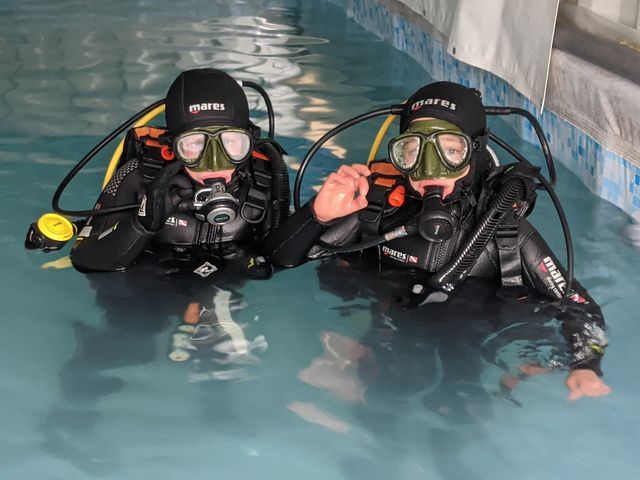 Prerequisites: Ability to swim
Educational themes: Marine Ecology, Physics, Conservation & Physical Education
Time to start blowing bubbles… Beginners take to the pool or the shoreline for their first steps towards becoming a SCUBA diver! A mix of theory and practical sessions teaches the students all they need to know and how to dive safely.
This module is tailored to the specific requirements of each individual and we work at a pace everyone is comfortable with.
---
Freediving
Prerequisites: Ability to swim 100+ metres
Educational themes: Marine Ecology, Physics, Conservation, Physical Education
Students will learn the basics of this versatile sport; a level-up from snorkelling. After a little theory, we hop into the pool to put it all into practice. If the weather is kind, we will explore our shoreline, discovering underwater swim throughs and the incredible wildlife abundant in our local area.
Students will experience the holistic process of freediving from breath work through to mind-calming techniques.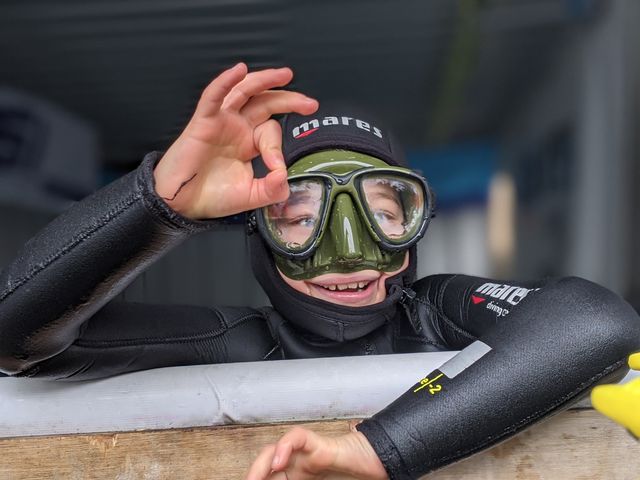 ---
Rockpooling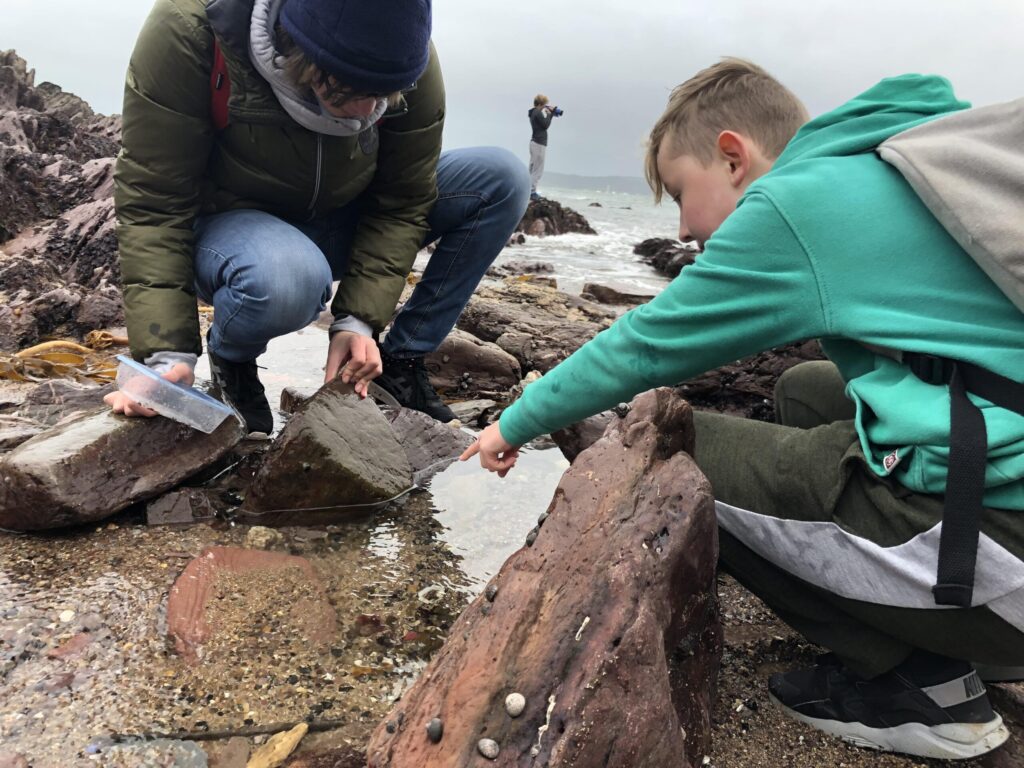 Prerequisites: An enthusiasm for adventure
Educational themes: Geography, Conservation, Biology & Ecology
We get outdoors to explore the exciting and vibrant seashore species at our favourite local beaches. Every beach is unique and over time, individuals learn the importance of each rock, algae and animal, and their role in the marine ecosystem.
Inside individual's personal logbook they will record, draw, and understand the different creatures we find. We learn about the damage caused by littering our shores and what we can do to mitigate this and protect them.
---
Film and Media
Prerequisites: For an in-water module: Snorkel/Freedive/SCUBA experience
Educational themes: Media, Language, English & Technology
Before setting up the Amphibious Project, the directors were award-winning underwater photographers and videographers. They love nothing more than sharing those skills.
Learn how to operate and maintain marine-specific photographic and video equipment before heading out into the ocean to record and edit your very own footage.
Available as a water or land module.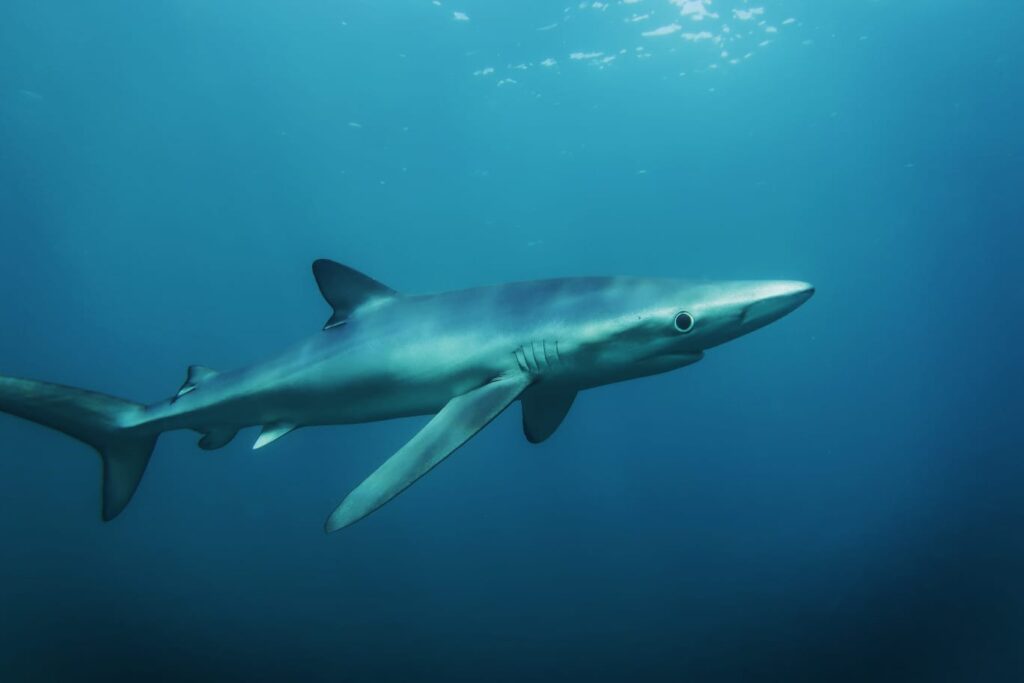 ---
Strandline Discovery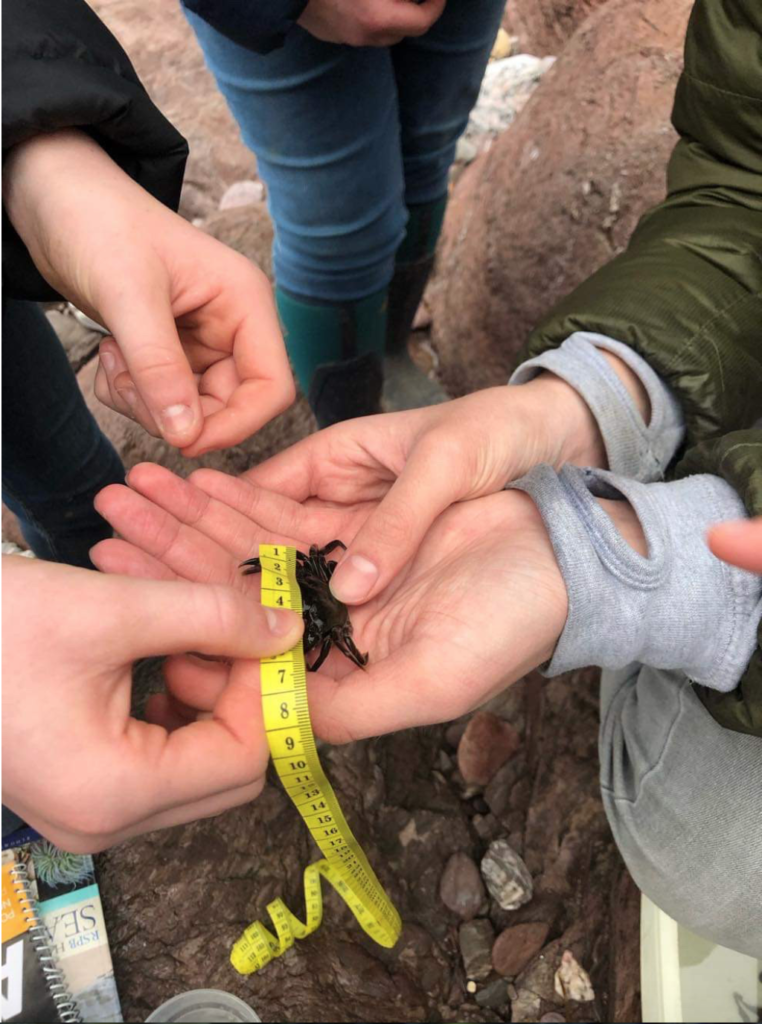 Prerequisites: Curiosity!
Educational themes: Marine Ecology, Conservation, Geography, History
Stroll along our favourite beaches discovering the treasures of the strand line and their origin whilst participating in a beach clean at the same time. Discuss the history of pottery finds, explore the life cycle of a cuttlefish bone and debate the origin of driftwood piece.
---
Coastal Crafts
Prerequisites: A creative flair
Educational themes: Art, Graphics, Conservation & Geography
A great follow-on from rockpooling and strand-line discovery. Relax and have fun turning your beach findings into artistic creations, murals and jewellery. This is the perfect opportunity to get your hands messy and get creative!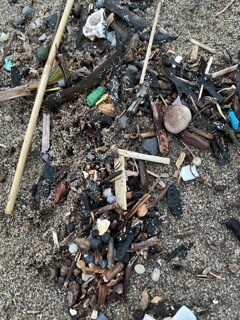 ---
Summit to sea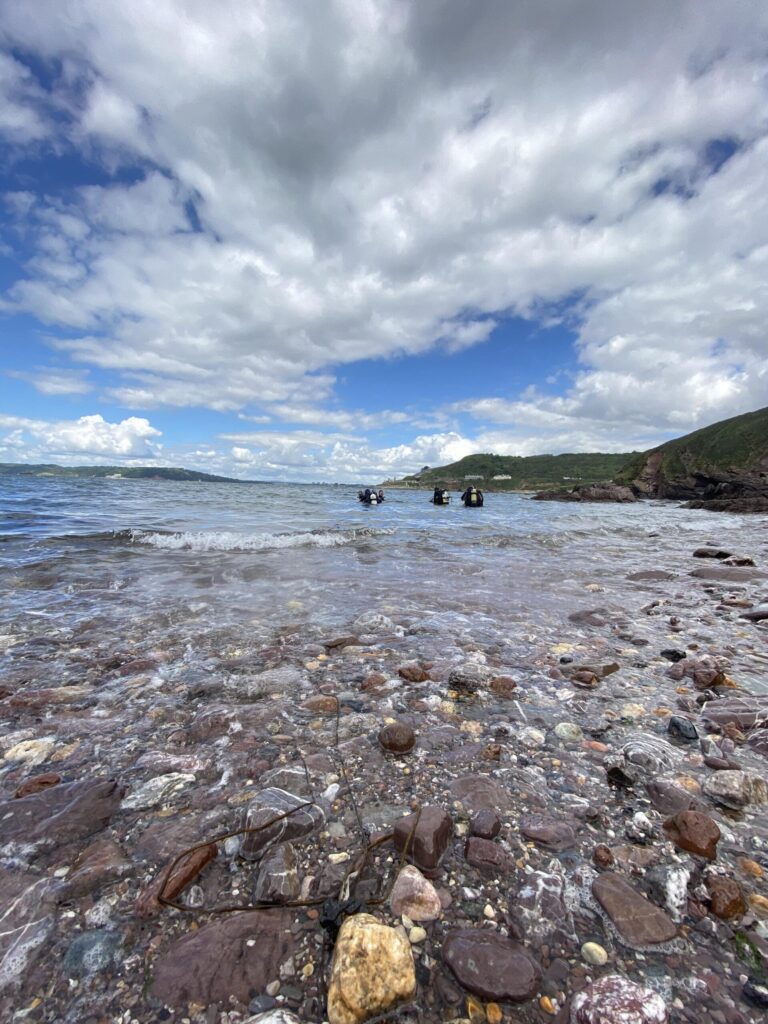 Prerequisites: Wanderlust!
Educational themes: Geography, Navigation, Biology & Ecology
An adaptable module that will see groups start their adventure in Dartmoor National Park discovering a range of possible topics from salmon migration to navigation, before following the course of the river from source to sea, where we will spend time discovering our local shore.
We travel from one National Park to another, what an incredible opportunity!
---
So there you have it – fun and learning that's not to be missed! Get in touch today to register your interest.
---